Pros
Large screen
Well designed
Packed with features
Cons
Average battery life
Very big
Lack of HDMI output
Key Specifications
720p HD video
Android OS
1Ghz Qualcomm Snapdragon processor
8 megapixel camera
(centre)
There's no point beating about the bush, if you don't mind your phones being big, the HTC Desire HD is the best smartphone on the market right now. A good screen, great design, and bucket loads of features combine to make this the best overall phone we've seen.

All this and we've apparently been given a version of the phone that doesn't have the final firmware. Quite what is missing, we're not sure but we found nothing that would concern us.

VI Video was already generated for this page.

Ironically, what immediately strikes us about the Desire HD is not a positive thing but rather how big and heavy it is. Measuring 123 x 68 x 11.8 mm it's 8mm wider, 10mm taller, and a couple of millimetres thicker than that favourite yard stick, the iPhone 4. It's also 27g heavier at a total of 164g. As such it really does feel bulky and to our minds pushes the limits of what we'd consider comfortable and practical, and we'd have preferred to see the same overall package squeezed into a device with a 3.7in screen like the original Desire.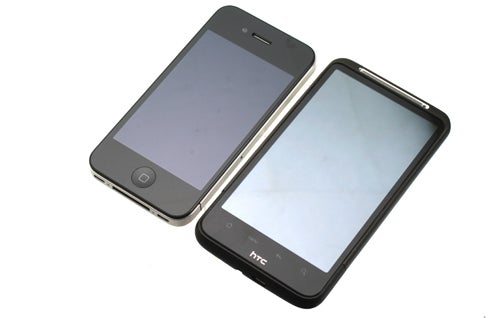 What that size does get you, though, is an enormous 4.3in screen that has many potential benefits such as being easier to read and nicer to view video and photos on. However, we feel it's still somewhat small to happily watch a whole movie on, as you would on a laptop, and you'd have to have pretty poor eyesight to find it significantly easier than a 3.7in display. As such we feel the extra size is of little to no benefit, especially as the 800 x 480 resolution is no higher than rival devices with much smaller screens. Moreover, it's simply impossible to reach the whole display when using the phone one-handed without shifting your grip, which can be a bit awkward.

Display quality is also not "quite" as good as we might hope. It uses an LCD rather than OLED panel so isn't as bright or vibrant but we actually don't mind this as LCD screens are sharper – comparing this phone to the Samsung Galaxy S really confirmed our issues with that phones display looking rather grainy.



However, what we would've liked to see is the same quality LCD panel as used on the iPhone 4. By using IPS technology rather than TN, that display has better viewing angles, greater contrast and better colour reproduction. We really are nitpicking here and it wouldn't put us off buying one but it's worth noting that perfection this phone certainly isn't.
At this point you may be thinking this all sounds a bit negative considering our opening gambit but here's the crux of the point; while we feel the size of this phone is something of an issue, the rest of its abilities more than make up for it.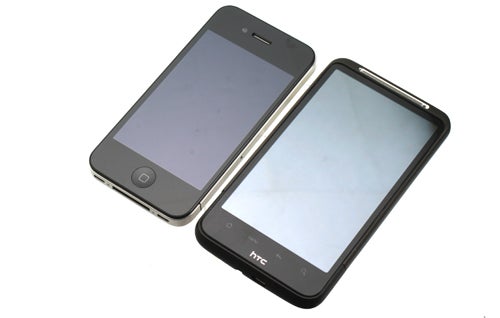 For a start the design is lovely. The front is beautifully clean and simple thanks to the four navigation buttons underneath the screen being incorporated into same glass as the display. Flip the phone over and the taupe back looks simple and understated. What's more, it should be hard wearing as the majority of the chassis is made from anodised aluminium with just a few soft touch plastic panels dotted around where needed.



We do have a couple of very small niggles, though again they're unikely to be major concerns. The first is the thin plastic strip that protects the edge of the screen, which sits proud slightly and feels rather sharp. You're not going to cut your finger but it does feel a bit odd. The other concern is the gap on the back between the main chassis and the bottom panel. It's a hairline crack but as there's no lip for the panel to nestle on you can actually see straight through to the innards of the phone – this obviously won't be a device that survives a dunking in water.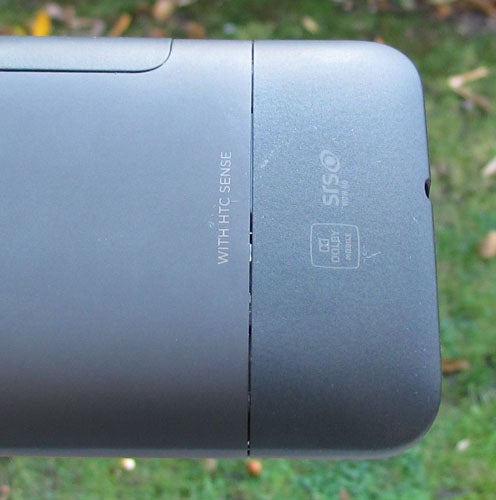 Also not quite up to snuff is the volume control, which is a tad mushy making it difficult to tell if you've pressed it. The screen lock/power button is also rather hard to reach one handed and we would've liked to see some way of activating the screen when holding at the bottom.




Along the bottom edge you'll find a headphone jack and microUSB, the latter of which both charges the phone and provides data transfer. All pretty standard stuff but crucially there are no major omissions, though some rival devices do offer mini HDMI for outputting video to your TV. On the audio front HTC has also teamed up with Dolby and SRS to provide Dolby Mobile and SRS Wow audio enhancements.



An 8 megapixel camera sits on the back, which is larger than most smartphones on the market, and it even has two LEDs to help out in the dark. Ideally we'd also see a Xenon flash but this really would be a harsh criticism.
The interface on the Desire HD is everything we've come to expect from HTC and Android. A comprehensive setup guide takes you through the various steps of adding a Google account, setting up email, how to use the keyboard, transfer your data from your old phone, and set up an HTC Sense account. The Sense account allows you to sync your contacts from gmail and exchange accounts, download extra HTC apps and widgets, access your phone remotely (for stuff like locating it when lost and finding it on a map), and sharing stuff with friends who also have HTC phones. You can also just skip most of the setup and get straight into using the phone.



Once at the desktop you'll find the familiar HTC approach of having seven screens arranged horizontally that you can slide between and add multiple apps and widgets to. Along the bottom there are shortcuts to the main menu, the dialler, and the personalisation menu. The latter lets you change wallpapers, rearrange the items on your homescreens, add folders for apps, and also change notification sounds. With HTC Sense's improved look and feel, it makes this phone look stylish and feel practical right from the off.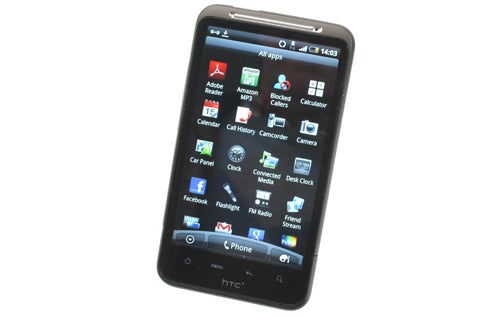 What's more, the sensitive and accurate touchscreen combined with this phone's 2nd generation 1Ghz Qualcomm Snapdragon processor means it feels really nippy with really smooth responsive menu transitions and animations. It's still not quite as slick as the iPhone, or Windows Phone 7 for that matter, but the gap is small enough not to concern. Likewise the touch sensitive buttons on the front are quick to respond, leaving us without any worries over the loss of physical buttons compared to the original Desire.

All HTC's signature widgets are present like its combined weather, time and date app that is on the homepage by default. You'll also find the FriendStream which shows you a feed of all your Twitter and Facebook friends' updates. Sadly you still can't actually use the app to reply to a message and must open the full apps instead, but it's still a useful addition.

A rather more significant addition HTC has made is seen when editing text. Hold your finger down over the text and, just like on the iPhone, a magnified area pops up allowing you to more easily see where you're placing the cursor. Release your finger and you get Select and Select All options for highlighting text for copying and pasting. It's very nicely done.

As we often find with Android phones, the wealth of features and information on offer can be a little overwhelming sometimes and result in long unwieldy lists of options. It's in this regard that we've often held iOS in higher regard as what it can do it does in a more simple and intuitive manner. This also seems to be the route Microsoft has taken with Windows Phone 7 and is what we liked about WebOS. If you like to take control, though, you'll love routing round the Desire HD.
Sending and receiving messages in the multitude of ways that it is now possible to do is made really easy on the Desire HD. We already touched on the ease of text editing but just as good is the onscreen keyboard. The layout is excellent and for the multi-lingual among you, the one button access to multiple languages will be a real boon. We do find that having the secondary functions of each key displayed at the same time as the primary function makes it a little more difficult to see what you're doing when typing at speed, and the way alternative words are constantly displayed above what you're typing is also a little distracting, but you do get used to them.



As you'd expect in this day and age, SMS messages are arranged in conversations so you don't constantly have to go back and forth between old messages to keep track of what's been said.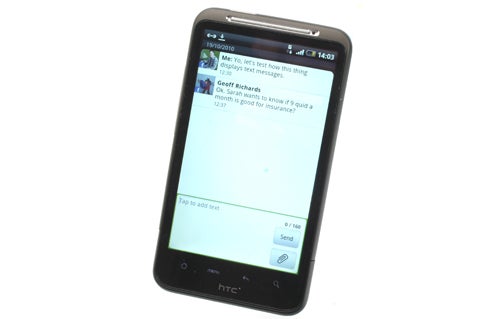 Mail options are also extensive, though we do miss the elegant way Windows Phone 7 displays urgent and flagged emails with just a swipe of the finger.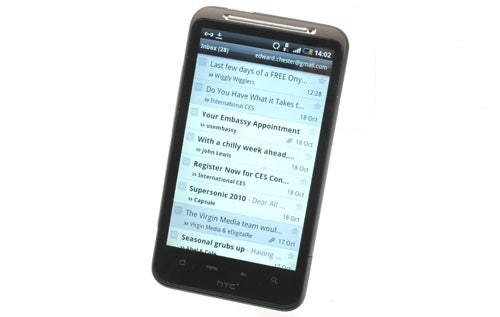 Keeping tab of what your friends have been up to is also well catered for. Facebook and Twitter accounts can be linked to your contacts so they display profile pictures, though messages from the services aren't integrated into the profile like SMS and Email are. Again, this is one area where Windows Phone 7 is one step ahead.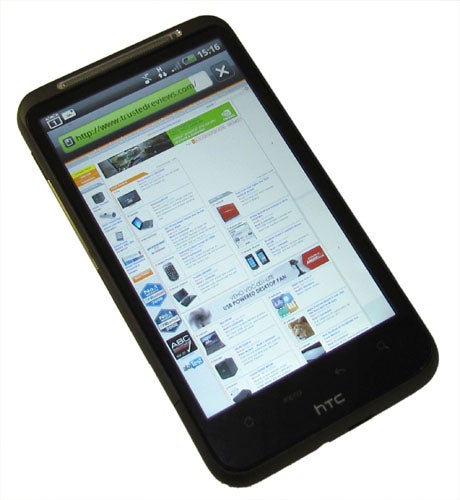 Apps for Facebook and Twitter also come preinstalled and if you prefer an alternative you can always download one from the wealth of options available in the market place.



The web browser is among the best available on a mobile device at the moment with support for tabbed browsing, pinch to zoom and Adobe Flash. Playing back high bitrate videos does result in slightly jerky motion but otherwise it's a really speedy experience. With Wi-Fi and 3G onboard you're also left wanting for nothing when it comes to download speeds. Also, Android's Wi-Fi hotspot feature means you can use your phone's data connection to surf the web on other Wi-Fi enabled devices.
Thanks to its large screen, watching video is that much more enjoyable than on smaller devices, though as we said earlier, it's not that much better that we think the extra bulk is worth it. Format support seems to be par for the course with most of the files we tried playing back smoothly.

The extra audio features also help to make for a more immersive experience when watching movies though we can't say it added enough that it alone would make us choose this handset over any other. It doesn't add much to music either though the overall music listening experience is more than adequate and on par with any other smartphone.



One feature we really welcomed with the arrival of Windows Phone 7 was the mandated physical shutter button for the camera. Sadly HTC hasn't taken the hint and added one to the Desire HD so taking photos is a slightly more awkward experience as you have to tap the screen to take a shot. Nonetheless, the application itself is really fast and easy to use. As photography enthusiasts we'd like to see smartphone camera modes that offer manual exposure controls as the automatic modes often can't cope with challenging lighting situations, especially when using the flash, but this is a complaint against smartphones in general.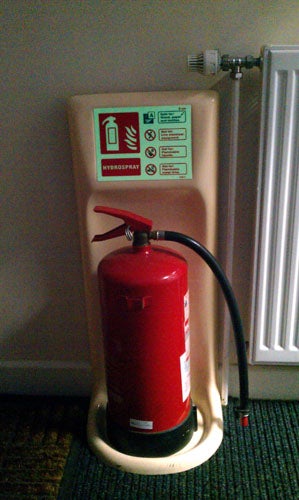 Results from the camera are par for the course in so much as they can offer up a fair amount of detail and accurate colours in well (and evenly) lit situations but shots in dark environments are very noisy and overall sharpness is nothing compared to even a basic compact camera. The twin LED flash certainly helps in close quarters but we'd still like to see more phones use proper Xenon flashes.

The 720p HD video footage is likewise about as good as we'd expect. The extra resolution over standard definition is certainly welcome and you'll be happy filming the odd clip of your friends but motion and challenging lighting will be its downfall.

When it comes to actually making calls on the Desire HD, it holds up very well with no obvious problems coming to our attention. There isn't active noise cancelling, though, so calling in noisy environments isn't this phone's forte. Neither is the speaker phone which isn't all that loud and distorts at relatively low volumes.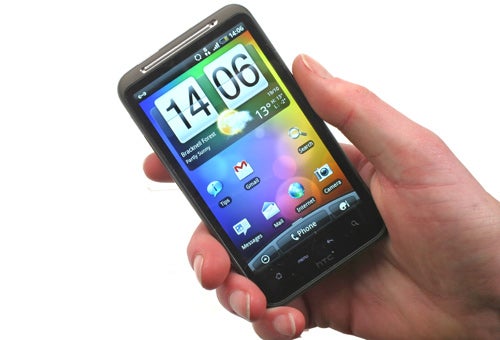 Battery life was also alarmingly poor during our intensive testing with its 1230mAh unit lasting…